Buy Traditional Irish Music CDs by Popular Irish Folk Band Henry Marten's Ghost.
Our albums Ireland a Troubled Romance, High on Spirits, and our latest Live at the Cellar Cardigan. Prices: £22 for all three, £18 for two, or £10 each). This includes postage & packaging within the UK. Postage & packaging for Europe & rest of world is £3 extra.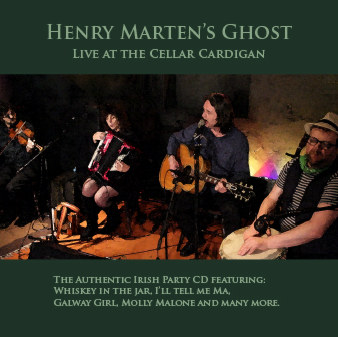 Tracks inclue: Whiskey in the jar, Molly Malone, Brown eyed Girl, Black velvet band, Erin go bragh, 40 shades of green, I'll tell me ma, Dirty old town plus many more.
---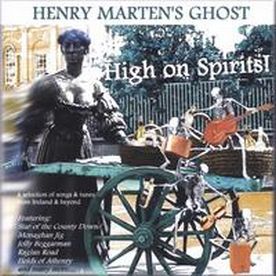 Tracks: the Jollybeggarman, A man you don't meet every day, Raglan Road, two Reels, the Wild Rover, 3 Polkas, Star of the County Down & Monaghan Jig, Fields of Athenry, Rights of Man, the Irish Rover. Recorded in 2005
---
Tracks: Come by the hills, Spancil hill, Cunla, the Galway shawl, Step it out Mary, Back home in Derry, Carrickfergus, Grace, Follow me up to Carlow, Tom Williams, Only our rivers run free. Recorded 2002
---
Use paypal it is safe and secure to complete your purchase
Please ensure you email us a postal address as paypal does not always record this. Thanks

Delivery:
Ireland a Troubled Romance Review
The third album released by Henry Marten's Ghost – Ireland a Troubled Romance is a mature & gloriously unpretentious celebration of the tragedy & hope running through Irish social & political history. The mixture of haunting ballads, scattered with a couple of traditional jigs is a triumph. The strains of longing, anger & sadness in the voice of vocalist Pádraig Lalor sustain throughout each of the 11 songs. The fiddle playing of Piotr Jordan adds a rounded & rich quality to each song's rendition. The interpretation of each of these traditional & newer songs is highly individual & will undoubtedly reflect the emotions of many of the Irish Diaspora.
Ireland – A Troubled Romance is definitely for listening to late in the evening, in a quietly lit room when the day leaves you only enough energy to dream.
This album is one of the best collections of traditional Irish folk music I have heard and I challenge any lover of Irish music to disagree!
Saoirse Campbell (Irish freelance media)
Traditional Irish band available in Avon, Bedfordshire, Berkshire, Bristol, Buckinghamshire, Cambridgeshire, Cheshire, Cleveland, Cornwall, Cumberland, Cumbria, Derbyshire, Devon, Dorset, Durham, Essex, Gloucestershire, Hampshire, Herefordshire, Hertfordshire, Humberside, Isle of Wight, Kent, Lancashire, Leicestershire, Lincolnshire, London, Manchester, Merseyside, Norfolk, Northamptonshire, Northumberland, Nottinghamshire, Oxfordshire, Rutland, Shropshire, Somerset, Staffordshire, Suffolk, Surrey, Sussex, Tyne and Wear, Warwickshire, West Midlands, Westmorland, Wiltshire, Worcestershire, Yorkshire, Anglesey, Caernarfonshire, Ceredigion, Carmarthenshire, Clwyd, Dyfed, Flintshire, Glamorgan, Gwent, Gwynedd, Monmouthshire, Pembrokeshire, Powys, Scotland, Northern Ireland, and Europe.
Copyright © Padraig Lalor, 2009 | Web Design:
TenderSoft